Southern Africa on Two Wheels
Wild elephants - a common sight on Botswana's roads, dirt of paved.
A 25,000km Journey around Southern Africa
Markers show where I spent at least one night during the trip. It gives an idea of my route.
With the fall equinox more than a month behind, the sun has already swung far south. The days were getting shorter and shorter in the northern hemisphere and the last of the migratory birds were leaving for warmer places. After a long summer of enduro riding in the western USA , it was time to follow the sun south.
I had a lot of fun riding in Colombia previous two winters, but as much as I wanted to head back there, I thought I'd try another continent. Asian countries still loving masks and other Covid-related restrictions, were not an option. A friend from South Africa invited me to visit her and explore her beautiful country. How could I pass on such a kind offer!
Getting to South Africa wasn't easy, but after frustrating four days of flight cancellations and delays, I landed in Johannesburg. It was great to know a local as Johannesburg can be dodgy. My friend kindly drove me around looking for a bike and helped me get necessary papers for bike registration. I also met a few of her friends and family members and got a glimpse into South African way of life.
My friend took me to a local liquor shop.
Considering the price, South African wines are the best I've had anywhere.
I flew into Johannesburg with a grand plan of riding for four and half months all around Southern Africa, for at least 40,000km. I was gonna park the bike at my friend's place and return the following year, pick up the bike and ride straight up to Europe.
Well, had I done my homework beforehand, I would have figured out just how bent on screwing visitors most African countries are. My grand plan shrunk to three and half months and 25,000 km around visitor-friendly countries, for the reasons explained further down.
I brought with me latest and simplest chain oiler to test on dirt roads of Africa. I simplified user interface, removed Bluetooth and changed controls to just one button and one LED. I wanted to test longevity and sturdiness of the whole system on rough roads of Africa. Previously, I had several versions damaged on gravel roads of Central Australia and sandy washes of Utah. This time, I tried to hide hoses away from flying rocks and keep the final dispensing tip behind a basic, stock chain guard that came with the motorcycle.
I decided, for simplicity reasons, to attach electronics box with zip ties. 60 ml oil reservoir is stored under the seat and a thin silicone hose supplies oil to the electronics box that controls oil dispensing.
I tested the bike for a few hundred km around Johannesburg and Pretoria just to get acquainted with left-hand side driving, South Africans' driving habits and bike handling. Then, it was time to hit the road. The rain season was arriving from the north. So my plan was to head northeast for a few days and then swing south and west. The idea is to explore South Africa, Namibia and Botswana during the rainy months of December and January, then visit Angola, Zimbabwe, Zambia, Malawi and Mozambique after rains subside.
Less than 10 km into my five month journey, I got a flat. Luckily I was still in Johannesburg and there were many motorcycle shops around. This was also the first test of the oiler design. I've had earlier versions damaged when mechanics removed and installed rear wheel. This design survived the tire change.
Ride between Polokwane and Hoedspruit goes through scenic mountains and there are some beautiful waterfalls to be visited.
Wildlife
Africa is all about wild animals, some more some less dangerous.
Safaris in game parks are the main attraction in Africa. Kruger is the most famous place for a safari, but there are many other game reserves near the Mozambique border with Hoedpruit as a convenient center town.
National Parks and many other places in South Africa charge foreigners much higher prices than locals. I got allergic to the practice of double pricing in Thailand where even many private businesses resort to the same scam. For this reason, I do not visit such places. Luckily, there are plenty of private game reserves around Hoedspruit that do not discriminate based on your nationality.
A baby hippo was rescued and nurtured by a local couple. They offer visitors a chance to interract with Jessica, now an adult hippo. Event hough she spends time with wild hippos, she likes people and goes back to her home every day for afternoon snack and tea (she loves Rooibos tea). Visitors get to feed and pet Jessica.
Another perk well-worth a visit is the animal rescue center. They used to have interractions with lions, cheetahs and other animals. But it has been banned and now it resembles a zoo. But the good cause is still there and there are many lovely, people-friendly animals to be seen.
Jessica is a pet hippo. She was rescued by locals and even as an adult, after roaming with wild hippos, Jessica still goes back "home" to sleep at their house.
Don't hate me because I'm beautiful.
Story of Stoffel, the honey badger is quite amazing.
We visited aviaries with some scary raptors, but I thought this guy was the most special with his his long eyelashes.
OK, I will stay on my motorcycle.
From Hoedspruit I took the Panorama Route that winds along the edge of the escrapment with Blyde river below. There are several beautiful waterfalls and viewpoints along the route. This area is mountaineous with beautiful twisty roads and it is popular with motorcyclists. I saw quite a few other riders and several businesses catering to bikers.
There are numerous waterfalls along the Panorama Route.
View of the lowlands to the east of the Panorama Route.
Stuck in time - Pilgrim's Rest, a former mining town, now a tourist destination.
After a short visit to Neilspruit, I was off to Eswatini (former Swaziland or Zululand). There, I stayed at a very comfortable cottage with amazing views of the valley below. I entered the country at PIggs Peak border crossing and the road was pretty rough and remote for 20-30 km. Then the rest of the ride was on a beautiful smooth highway. The next day, I went straight down to Indian Ocean. It's been a while since I've seen it.
Indian Ocean, at long last.
Hippo and crocodile cruises are the thing to do in St. Lucia. Apparently hippos roam town streets at night. There are signs everywhere warning people to watch out for hippos. Attacks are not that uncommon.
We snuck up on these two hippos sleeping in the water.
Hippo and crocodile boat tour. No crocodiles, but hippos were showing up as if they were on a payroll.
Sharks, crocodiles and hippos are all after you. Hippos roam streets of St. Lucia freely. They may look cute, but are very dangerous. One lady was attacked by a hippo in St. Lucia recently.
After St. Lucia and hippos, I visited several beach towns of KwaZulu Natal and made my way to Durban. One can see that it once was a grand city, but unfortunately, time seems to have stopped in 1993. The beach promenade, however, has been pimped up for the World Cup and is as pleasant to stroll as Venice Beach in LA or Nice's promenade on Cote d'Azure.
Durban's World Cup stadium.
Lesotho and Sani Pass
Everyone raves about Sani pass, a dirt road that climbs from South Africa up to the border with Lesotho at 3000m. There is even an enduro race (but I doubt it goes up this easy gravel road). It's akin to some of Colorado passes with automotive history going back almost a hundred years. Here, people have been testing the limits of their cars and motorcycles for decades. But these days, even two wheel drive vehicles go up it easily. Unfortunately, a storm was due for the next few days and I spent most of my time in Lesotho running away from the rain. Southwestern border of Lesotho and South Africa features some amazing passes for 4x4 and advernture riding enthusiasts. Too bad that the weather did not let me experience more challenging rides. Maybe on my next visit to South Africa.
After I checked into Lesotho, drizzle turned into rain, so I had no option but to hide in the "highest pub in Africa."
Some of the photos on the wall of Sani Pass Pub."
Atop Sani Pass in miserable drizzly conditions.
A remote dirt road in Lesotho. It took me 3 hours for 60 miles of this road, crossing three passes over 3000 m high.
Typical Zulu stype houses.
They don't have much in terms of farming machinery. All the tilling is manual with help of an ox or a horse.
Climb up Joubert pass from Lady Gray was easy.
The weather forecast called for clearing and since Sani is such a big item on adventure rider's list, I decided to go back and do it in right conditions. What a difference blue sky can make!
Approaching Sani Pass in sunny weather.
Life is good when the sun is out.
THe final switchbacks to the top of Sani Pass.
South African border post at Sani Pass.
Atop the pass, just before Lesotho customs.
Lower swtichbacks of Sani Pass.
Upper switchbacks of Sani Pass.
I can see where the name Drakensberg (Dragon mountain) comes from.
By early afternoon, clouds started gathering and I barely made it to the cottage before it started raining.
Even though there wasn't a single cloud in the sky around Drakensberg, as I dropped down towards the coast, I had to ride through a thick cloud layer for some 30km.
Eastern Cape
After riding Sani pass twice up and once down, I felt I've done it justice. The next day, I headed back towards the coast. High up, the sky was deep blue, without a single cloud in sight. But as I started descending towards the coast, I entered fog, mist and clouds. But once below the cloud base, it was just overcast.
After they made sure my papers were in order, these police officers were curious about my trip and I asked them for a photo, which they happily agreed to.
Deep blue ocean near Margate.
Wild Coast
I don't remember much of my three month trip through Africa 20 years ago, but i do remember the raw beauty of the Wild Coast and my hut on a hill above the Indian Ocean. While the rest of the world has changed significantly, this place is still the way I remember it - clean, tranquil and unspoiled.
Green rolling hills dotted with rondavels and low, fast moving clouds on the way to the coast.
Once I reached the coast, I was treated with a spectacular sky.
My hut (called "rondavel").
The place had such a special atmosphere, I had to make use of my hammock for the first time on this trip.
Coffee Bay and nearby Hole in the Wall are popular tourist destinations on the Wild Coast. Idyllic green pastures rolling down into the ocean are the biggest attraction for me, even though most people go there for surfing, fishing and other beach activities.
Coffee Bay - the food wasn't that special, but the view was to die for.
Donkeys and cows keep grass at perfect length. Walking on the grass felt like being on the softest Persian carpet.
Mazeppa Bay, another paradise of solitude. It was recommended to me by a family that was staying in a hut next to me a few nights earlier. Pristine beaches, clean ocean and not a soul in sight.
Ferry across river Kei. I was sad to say bye to Transkei.
Garden Route, Baviaanskloof and Karoo
After a brief visit to East London and Port Elizabeth, I was to ride some highly recommended passes and routes in the coastal mountains along the famous Garden Route. Baviaanskloof (Baviaan is Baboon in Afrikaan) route lived up to its name with dozens of baboons raoming around. It is clearly a famous dirt road for both 4x4 and adventure motorcycles. It's a 100 miles long dirt road, rough in a few places, but not quite an adventure I expected.
Port Elizabeth has one of the nicest city beaches.
Sardinia beach west of Port Elizabeth.
One of the passes on Baviaanskloof route - remote but not particularly demanding on a motorcycle (I can see that it is much more of a challenge in a 4x4 vehicle).
Karoo , a not well-defined area north of the coastal mountains. It's mostly inhospitable desert where hard-working farmers try to make use of the land. I only got to visit Little Karoo, but there is also Big Karoo, deeper inland, drier and more inhospitable.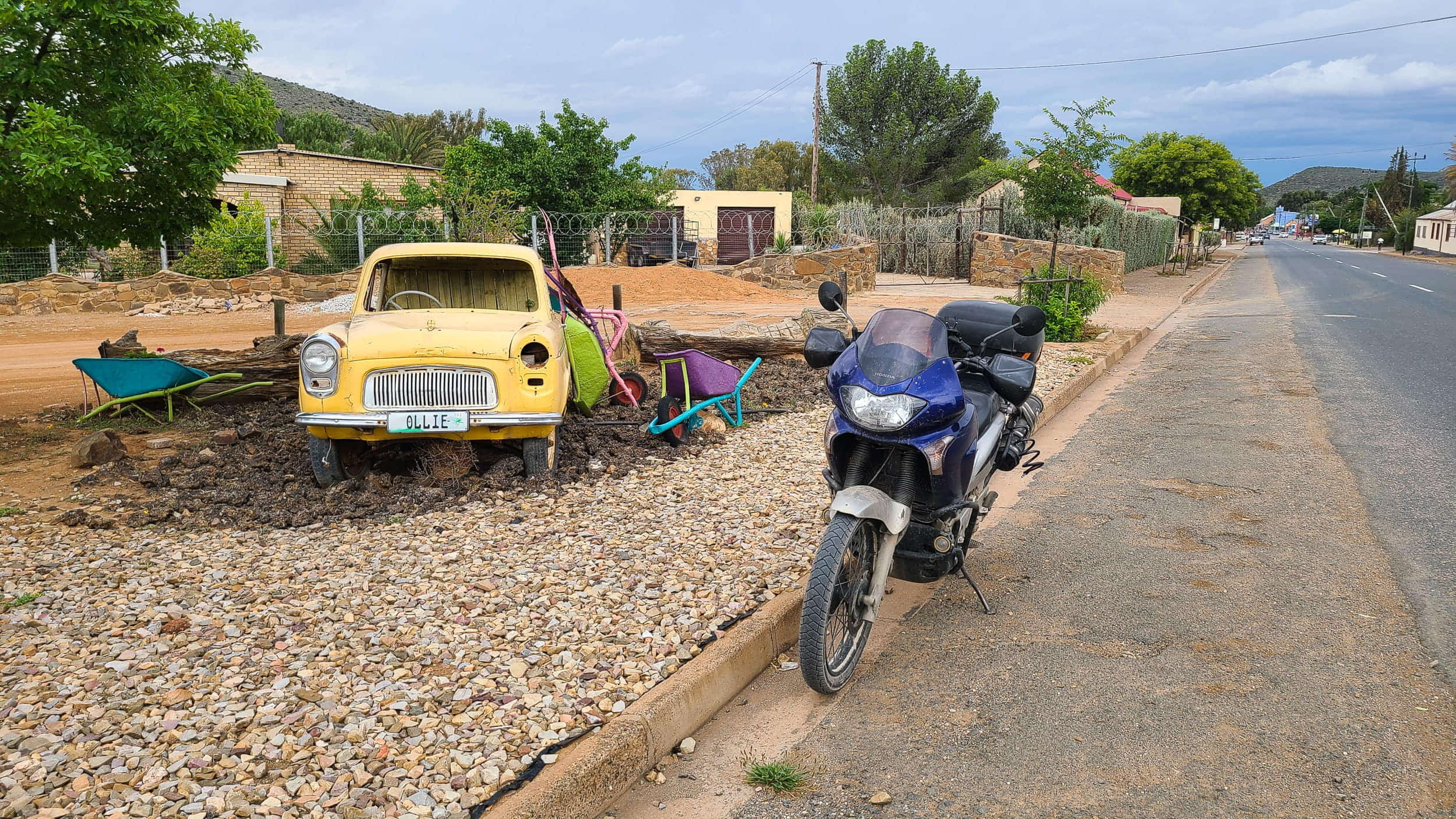 Willowmore - a small town in Little Karoo.
Prince Albert Pass - one of several passes connecting Little Karoo and the Garden Route.
Route 62 through Karoo - South African answer to route 66 in the US Southwest.
Swartberg canyon - a beautiful canyon just outside De Rust.
Swartberg is probably the most famous pass in this part of the world and I saw quite a few other riders. The day I rode it, southern side was engulfed in clouds and fog while the northern side was perfectly clear. On the way north, I rode through think clouds and couldn't see much. Once, atop the pass, I exited the clouds and enjoyed a beautiful morning in Price Albert. By early afternoon southern side cleared up and I returned in beautiful weather.
Clouds spilling over the mountain and Swartberg pass.
Otto du Plais road runs for 50km along this ride.
Otto du Plais road is rough and remote.
Die Top of Swartberg pass.
Western Cape
South Africa's Mother Road - Route 62.
Rains forced me to ride through Karoo and bypass most of the Garden route. Eventually, I reached Garden Route at George, backtracked to Plettenberg Bay and continues west. One place that stuck in my mind from the previous trip was the southernmost point of the African continent.
Cape Agulhas - the southernmost point of African continent.
Where the oceans meet.
One of many pristine beaches along the Garden Route.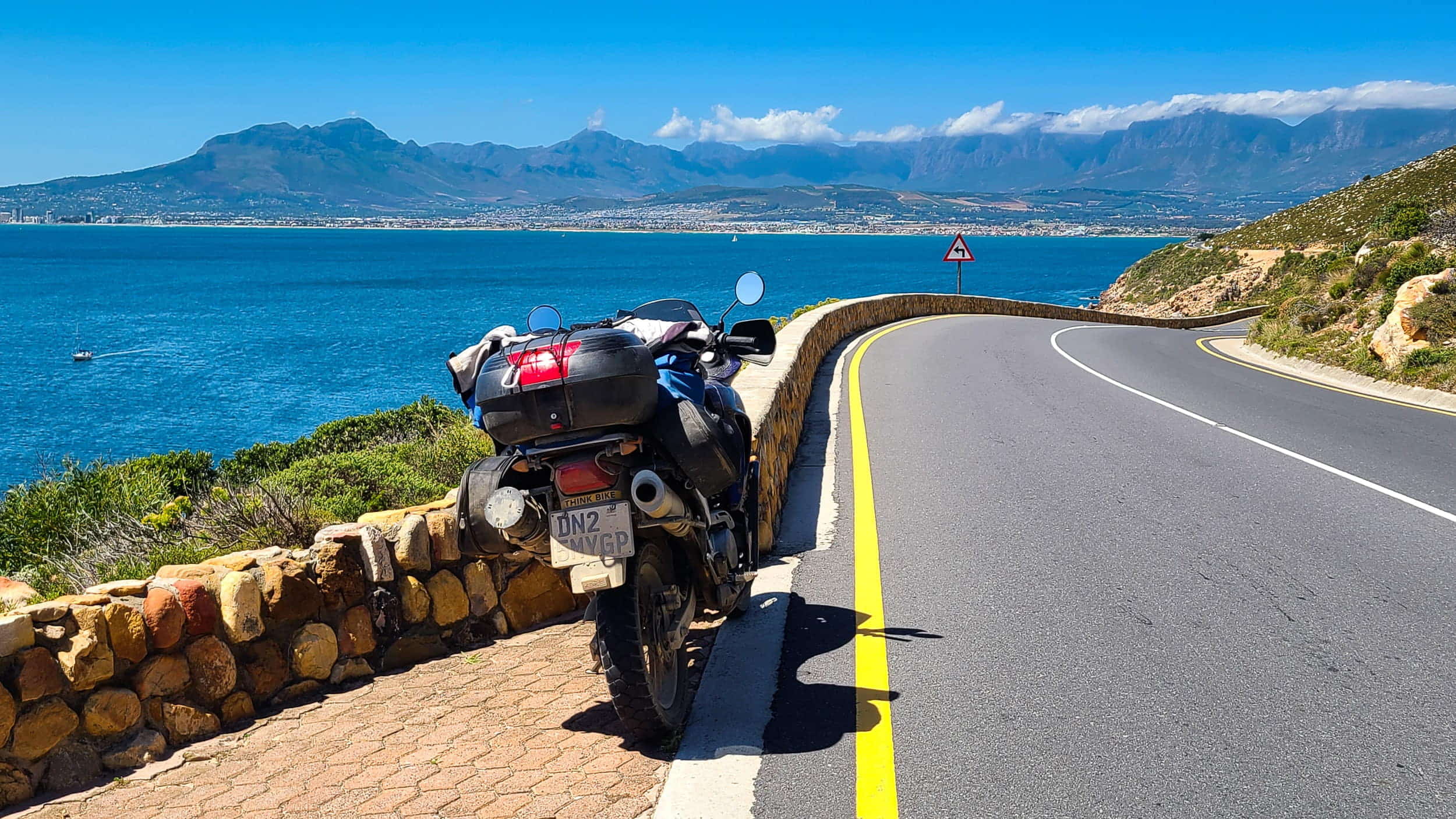 The twisty coastal road between Hermanus and Gordon's Bay is reminiscent of the coastal road along Cote d'Azur.
Cape Town
Cape Town is a special place, not least because of its amazing location between a bay and Tabletop mountain. It's a clean, vibrant city with amazing restaurants, bars and entertainment. I spent a couple of days there exploring the city and getting spare parts for the bike.
Cape Town downtown and Tabletop mountain from my room in Cape Town.
Long Street is the main drag in Cape Town downtown with some beautifully decorated buildings.
Telegraph hill is a popular sunset spot for the locals.
Cape Town city hall.
Cape Town downtown from the lower station of Tabletop cable car.
Cape Town botanical garden.
Around Cape Town
Muizenberg beach.
One of the most scenic coastal roads of the world - Cape Town to Cape of Good Hope.
Hout Bay.
Gordon's Bay beach, a popular holiday spot.
Funky art in Stellenbosch.
Du Toitskloof Pass.
Vinyards of Western Cape are producing some of the world's best wines.
Coastal fog penetrates deep into the hot desert. At this point, I was some 50km from the coast and I could see the fog. Soon after I took this photo, I entered the fog, temperature plumeted and I was freezing the rest of the day riding along the foggy Atlantic coast.
After more than a month of riding and 10,000km travelled, I was ready for a new country. South Africa was very pleasant and a rewarding riding destination. I am so grateful that I had chance to explore it on a motorcycle.
Namibia
Bleak desert of western Namibia.
I had fond memories of my earlier trip to Namibia and Sossusvlei in particular. Vast, desolate, bleak desert, in places completely devoid of any vegetation, is a sight to behold and an experience to cherish.
I entered Namibia at Oranjemund, on the Atlantic coast. This whole are was off limits as there were too many diamonds to let anyone in. Now, only the road is open, but one is warned not to get off the pavement anywher or else...
Sperrgebiet - the forbidden area.
I could have taken a nap in the middle of this desolate road to Luderitz.
Luderitz sunset.
Apart from a few paved roads, it's all gravel in Namibia.
The only tree around.
Campground outside Sossusvleai.
Campground even had a pool.
While the rest of Namibia has some interesting places to visit, it was Sossusvlei that was beaconing me to return to Namibia and I was very excited to visit it again.
As it turns out, the officials do not allow motorcycles even on the paved road in Sossusvlei. I took a scenic flight over the dunes to the ocean and back instead of climbing the dunes and visiting vleis. Not being to visit Sossusvlei and climb dunes one more time was a big disappointment and my former sweet memories of Namibia became sour. I lost desire to go elsewhere and explore country more.
I took a scenic flight over the dunes out to the ocean and back. Next day, I hopped on the bike and rode towards Walvis Bay and Swakopmund.
View of sand dunes and Sossusvlei.
Dunes descent into the Atlantic ocean.
Quiver tree.
Crossing the Tropic of Capricorn again after many years. Last time I crossed it was in Brazil.
Quiet campground in Namib desert.
Even 100km from the coast, ocean moisture can be seen and cold air can be felt.
Rock domes of Spitzkoppe similar in shape and size to those of Tuolomne meadows (but of different color).
Kalahari desert starts west of Windhoek and stretches through Botswana to South Africa on the east side.
Windhoek, Namibia's capital doesn't have much to offer to a visitor. But that was the last place with decent mechanics and I needed oil change, new spark plugs and air filter cleaning. I also wanted to put new tires on, but the tread of the current tires was still good, so I decided to lug the tires for a bit longer.
I also had an Ace Ventura moment with Himba girls in Windhoek downtown. They are quite entrepreneurial. Supposedly they sell some hand-made jewelry, but everyone knows that it's photos of topless Himba girls that all tourists want.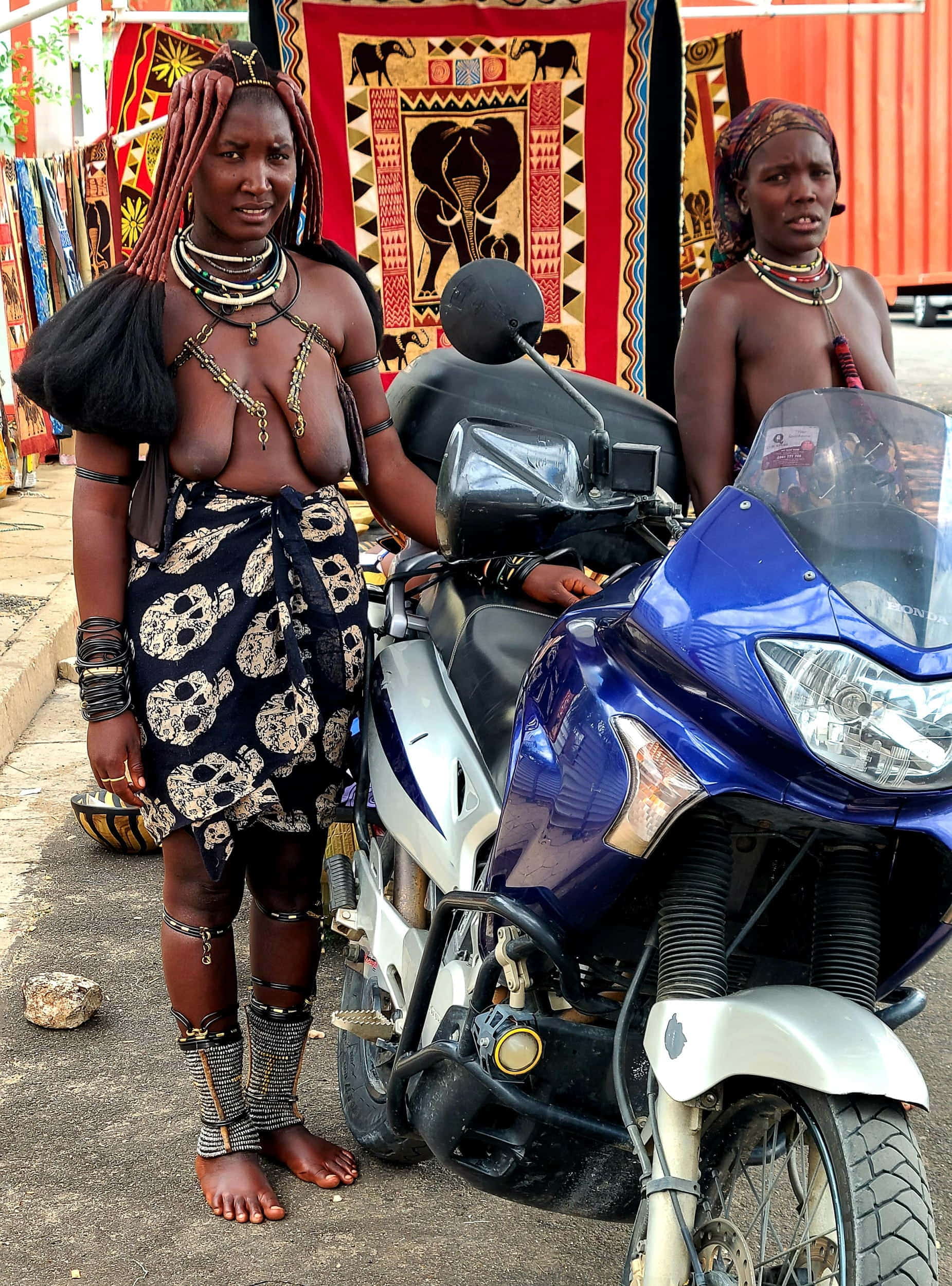 Hanging out with Himba girls in Windhoek.
African Greed
I also wanted to visit Angola. Their visa application website was down, so I stopped by the consulate. Boy, do they take "rude" to a whole new level. The consulate staff's slap in the face was what I needed to wake up to the reality - Angola and many other African countries simply do not want tourists like me. The governments want their piece of action before visitor even sets a foot into the country, before any business in the country gets a chance to make money off that visitor.
I don't know what the true reason for Africa being so desperately poor is, but I have a nagging suspicion that it's this kind of mentality that has something to do with it.
After the rude reception at the Angolan consulate, I checked internet about how I would go about getting visas for other African countries and I got turned off pretty quickly.
A ride to Europe does seem like a great adventure. What's there not to like? World's most exquisite selection of nasty diseases and violent criminals, most dilapidated infrastructure, lack of basic necessities and thugs in uniforms demanding bribes on every corner (as one South African told me about his trip through Mozambique). But just how much is this thrill worth?
A peek at exorbitant visa fees (Sudan - $160, Mozambique - $135, Angola - $120, Tanzania - $100,...), ridiculous requirements (hotel booking for every night, $200 per day in funds, local contacts and letters of invitation) is enough to turn off even hard-core masochists. Rude staff at consulates is just a preview of things to come once inside the country. Worse yet, what if I hit some stubborn thug in uniform half way to Europe? Then I could not go forward nor back. There is a reason why those countries are in the state they are in. I just feel sorry for the people who have to live there.
Sriously? $200 per day in funds for a country whose GDP per capita is $2000-3000 ($10 a day)? What is not listed here is the requirement for hotel bookings for every single day. Even though it's not listed here, when one starts filling an application, they ask for it (that's when I abandoned my application process). Also, notice the strict requirements on resolution and size of images. I had to use Photoshop just to get images and resolution to conform to the specifications.
Screen capture of a warning about police extracting money from foreigners ONLY. In this case in Botswana, but I've heard the same story about other countries. Luckily, I've never encountered such problems. Police was courteous and professional at all check points.
To be fair, as one friend commented, African greedy governments learned the ropes from our "free, oh so pure and transparent" governments. It's our governments that fail us and do not bother making agreements about visas and visa fees with other countries. They have their diplomatic passports and either don't need any visas or get them for free. We are supposed to work and pay taxes, not travel. They were the first to visas fee extortion. It's our corrupt governments that are, in a hidden way, yet again fleecing us.
Be that as it may, I crossed the rest of African countries off my list of places to visit. I changed my planned route, re-booked an earlier flight out of Africa and felt pretty good about it. I might have made a mistake, but that's something I can live with.
Malawi visa requirements - letter of invitation, money alone is not enough. $100 PCR test, for foreigners only.
Botswana
Despite disapointment at Sossusvlei, I continued north through Namibian desert to Caprivi Strip. It was amazing how quickly bleak desert scenery changed to lush tropical one. I entered Botswana from the NW corner through a national park with all kinds of wild animals (lions, leopards and other predators included).
Early morning ride towards Botswana border through a national park. I saw a herd of zebras and elephants crossing the road but there are many other predators as well in the park. I was glad I didn't see any of them.
Botswana also aims for high paying tourists and there are many high end lodges catering to them. Despite higher prices for almost everything (except petrol), country and people are noticeably poorer than South Africa.
Botswana is clearly geared towards high end, all-inclusive package tourists. Compared to South Africa, accommodation is a poor value. This was a toilet in my $30 a night room. I told lady that it was more expensive than Europe. Her reply was that hotels in the UK were more expensive. True, but hotels in UK are not representative of hotels elsewhere in Europe. In addition, I've never stayed in a hotel with toilet without a seat.
What made Botswana worth a visit was lack of fences along the roads going through wilderness. I saw more wild elephants on the roads of Botswana than deer in Colorado.
Even though this guy clearly didn't appreciate my presence, I walked away from the bike and took this photo while my heart was pounding. It would have been tough to run back to the bike, before elephant got to it, had he decided to charge me.
Another common sight in Botswana - giant ant hills.
Elephant Sands
The highlight of the visit to Botswana was my two day stay at Elephant Sands. It's a campground with some chalets and a restaurant around a watering hole where dozens of elephants come throughout the day and night to drink and douse themselves with water.
I was nervous turning my back to this bull elephant. They are quite accustomed to the people, but they are still wild animals and do not like people getting too close to them.
On the way out of Elephant Sands, I finally saw giraffes.
Elephants come to the water hole to drink and douse themselves throughout a day.
It can be quite intimidating to have a giant walk straight towards you.
This guy came really close to me. I mustered courage to snap a selfie only after he started walking away.
Golden Shower by an Elephant
Even though the restaurant area has some protection from the elephants, camping area is wide open and elephants can freely roam through campsites. I was a bit uneasy about camping without any protection, but the staff assured me that nobody ever got hurt while camping there.
Elephants can freely go through camp sites.
So, after setting up the tent, I went to sleep to sounds of birds, insects, antelopes running around and elephants growling at the water hole. Normally, I don't put the rain fly on unless it's going to rain, so I can see stars through the mesh.
In the middle of the night, I was woken up by something jerking my tent. When I opened my eyes, I saw giant feet RIGHT next to me through the tent mesh. A bull elephant just stood there while my heart was pounding. I was trying not to make any noise or move and payed for the elephant to go away.
Then he made a step forward and started pissing RIGHT there, next to my tent. WTF? Have you ever seen an elephant piss? It's like a fire hose, at full pressure. At this point, I was annoyed and upset about my tent being sprayed by elephant's piss. I almost yelled, but then I bit my lips and just hoped he would finish quickly.
Eventually he emptied his prostate (do elephants even have one?) and satisfied with this display of dominance, continued towards the watering hole. After this frightening experience there was no way I could go back to sleep. I kept on jumping up every time antelopes would run around. I thought I saw something chasing them and was wondering what kind of predator it could be.
This was certainly the most memorable (and I hope, never to be repeated) experience of my trip in Africa.
Corpus Delicti - fresh elephant dung next morning. After he took a dump, tugged on the tent and woke me up, he proceeded to relieve himself, RIGHT NEXT TO ME.
Zambia
After a few days of dodging elephans on highways, it was time to cross mighty Zambezi river and enter real Africa. South Africa, Namibi and Botswana to a certain extent, are in Africa, but not that challenging for travel. Riding around South Africa can hardly qualify as n adventure ride. Zambia, on the other hand, is a real deal. There are bad roads, malaria, scarcity of acceptable accommodation and restaurants and crime. Even though I've been told that Zambia is a safe country, my laptop and DSLR camera were stolen from my hotel in Lusaka. Luckily, that's the extent of my troubles with the crime in Africa.
First few days, I spent at a comfortable place in Livingstone, run by a South African farmer who had been living in Zambia for over 20 years. During that time, he's had malaria over 20 times. He doesn't think much about it. He and his workers helped me change tires on my bike. While I was impressed with Anakee tires (they had about 14,000km) and had plenty of thread left, I was tired of lugging spare tires behind me. The new tires, Dunlop Trailmax Mission were so stiff, it took four of us to mount the rear tire. The guy who sold it to me said that one of his customers got a flat on his big KTM and didn't even know he had a flat (that's how stiff the walls are).
Batok Air Scam
Livingstone is one the tourist map because of Victoria Falls. Since I'd visited the falls on my earlier trip, this time I thought I go for something different. My host recommended a helicopter ride. Batok Air was the only operator in town and I went straight to their airfield.
This was a big mistake. They apparently treat customers who come through an agency much better. There were two other guys who booked through an agency and the staff put them on one side of the chopper and me on the other and pilot spent most of the time circling on their side. They were looking down on the waterfall and I was looking up at the sky. Great cutomer service Batok Air. When I go for some el cheapo tour and get screwed, I know why it happened. But scams obviously have no price boundaries. Thanks Batok Air.
I got this view for 30 seconds, out of 10 minutes spent looking at the sky. NOT cool Batok Air.
I went to a local pharmacy and got medicine for diarrhea, malaria and infections.
Some of the potholes are so big, even semis can get stuck in them. Luckily, they know how to extract each other.
Taking a shelter from a rain shower.
My host in Livingstone recommended me to visit lake Kariba, world's largest artificial lake. After a night spent in a a lake-side bungalow, I continued towards Lusaka.
Even though the forecast didn't look promising, I was eager to move on and get to Lusaka. By noon, it started raining. Lickily, I was in a town with decent hotel. I also found an awesome Indian restaurant and treated myself with one of the best meals of the trip. In South Africa there were many Indians who were brought during British era as semi-slaves (to pay off their families' debts). So, it's not surprising to find good Indian restaurants there. However, in Zambia, these were more recent immigrants and they went there as investors and businessmen.
Chicken Butter Masala.
Since I had already decided not to visit any other African countries, Lake Tanganyika was my northernmost point. It's world's longest lake, second deepest and second largest (by volume) lake. I spent two days in my hammock strung under a tree on lake's shore.
Southern end of Lake Tanganyika marks the northernmost point of my trip, after 16,000km.
I spent two days savoring the fact that I was at Lake Tanganyika.
Quiet dusk at the pier, after all the fishermen and kids returned home.
NW Zambia is rich in copper - The Copper Belt. During my three weeks of riding around Zambia i saw huyndreds, if not thousands, of trucks loaded with copper plates bound for harbors in Namibia, South Africa and Tanzania. I was told that they travel in convoys because hijackings are not uncommon (since copper is around $8,000 a ton). Makes me wonder where all that money goes. Seeing how people live, they certainly don't benefit much from all the natural resources.
I found Zambian truck drivers to be extremely careful and curteous. I could not say the same about their Tanzanian buddies. After one rainy night, I saw a bunch of overturned trucks. Most of them lost control on completely straight stretches of the highway. Must have fallen asleep.
I was using iOverlander app for accommodation recommendations and road conditions. Some Zambian roads had huge potholes (actually there was no pavement at all, just huge woops made by trucks). Finally, traveling around Africa by bike as opposed by a 4 wheeled vehicle, paid off.
There aren't many paved roads in Zambia and I rode most of them. All the roads fan out from Lusaka. So I had to pass through the capital on the way back. Despite Zambia being "safe" country, my laptop and DSLR camera got stolen from the hotel in Lusaka. Lax security and some of the staff working with outside thieves were to blame.
I was impressed with the police and how they handled the case. The police actually took hotel manager and receptionist into custody and checked all their mobile phone calls in the previous two days. In the end, they didn't catch the thieves or recover my stuff, but they did show much more enthusiasm than the police in the USA on a few occasions when I was a victim of crime (they were utterly useless).
This guy was happy to pose with me in his traditional Zulu outfit.
From Lusaka, I rode straight west through some national part towards Zambezi floodplains. National park had all kinds of wild animals and there were signs for wild dog and lion crossings. I saw wild dogs, but luckily, no lions.
I saw wild dogs next to the wild dog crossing sign. Luckily I didn't see any lions next to this sign.
Sometimes poverty is striking. Even decent size hotels do not have washing machines. Bedding is hand-washed, and of course, dried outside.
Tesla shopping mall in a Zambian village.
Soul Harvest. One thing that a traveler around Zambia can't help noticing is an astounding number of churches even in the most remote villages. Catholics are losing in this battle, while JW seem to have biggest funding, they are everywhere.
There are some giant baobab trees in Zimbabwe, but since I decided to bypass the country, this is the only baobab I stopped to take a photo of.
Life in Zambezi floodplains during rainy season.
Great cow migration.
My last night in Zambia in a hotel by Zambezi river.
Crossing Zambezi one last time into Botswana.
I've crossed Tropic of Capricorn many times, but this is the most elaborate marker I have seen.
One Last Lap Around South Africa
Having cut my trip short, I still had ten days to spare. I decided to make a quick "best of" tour of South Africa. Wild Coast and Drakensberg mountains were the clear choice.
After a rainy summer, all the lakes were full.
Back in Karoo, unusually green.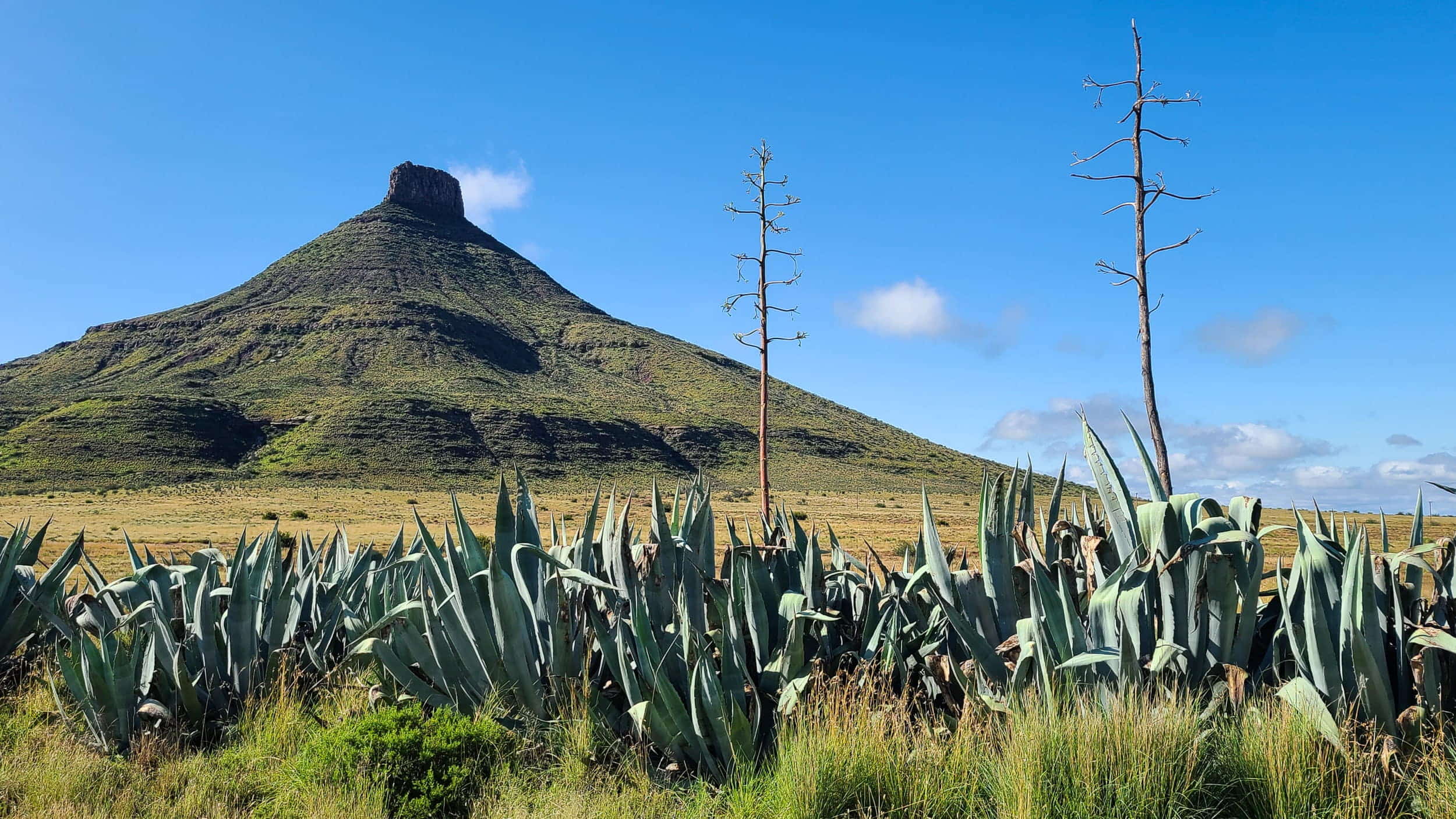 In places, Karoo is similar to Arizona.
Coffee Bay revisited.
Last bridge before Coffee Bay was washed out and the villages beyond it cut off from the rest of the world. I managed to slide down muddy makeshift road they were cutting throgh. However, I did not think I was going to be able to get up that steep muddy hill.
Whole sections of pavement were moved away by the flood as if they were made of paper.
One local told me that I better try to ride up the grassy slope on the left side of the gully (they were cutting a new road through on the right side).
In theory that idea seemed ok, but near the top, grass was wetter, soil softer and motorcycle would just spin the wheen in place. Dropping the bike wasn't a problem as it was at zero speed. But lifting it up was a chore. By the time I got up to the top, I hurt my back.
I rode back to Johannesburg along the eastern side of Lesotho, which I had missed earlier due to rains.
My friend recommended me Champaigne Castle Hotel at the base of Drakensberg mountains.
Unexpected Is Often Most Memorable
I remember many years ago, while riding in South America, a fellow rider told me that unplanned things are what he cherished the most about his trip. Twnty years later, I could not agree more with his statement.
This time, I was eating my cereal snack from a sherry glass, in front of a store in tiny village in Free State. A guy pulls up and parks his pickup truck next to my bike and makes some comment in Afriaan. I reply to him that I'm a foreigner and don't understand Afrikaan. He starts chatting with me in English and after a while his buddy honks at him and he has to leave. But before he left, he invited me to his farm.
It was around noon and I still had plenty of daytime left to ride. Besides, I generally do not feel comfortable just jumping on someones offer for free accommodation. So I kindly declined his offer but promised that if I got a chance I would visit him one day. We exchanged numbers and after I left the town I started thinking that I may not have another chance to get a glimpse into life of South African farmer, but it was too late - I didn't know where his farm was and I was already good 50-100km from the village where we had met. Over the course of next several days he sent me photos of various animals from his farm and invited me again. I felt his invitation was genuine.
On the way back to Johannesburg, I visited Bloemfontein and even though the farm was about 300km away, I decided to make a detour and visit it. Boy, was I glad I did! My host, his wife and son made my stay one of the highlights of the whole trip.
Wild animals around the house - The Welcome Committee.
This antelope hangs around the house and begs for treats.
My host took me on a tour of a part of his farm. The farm has been in his family for 120 years and it's a huge operation. Corn irrigation system uses 1000 gallons of water per hour, 24/7. They also grow prickly pears to extract oil from the seed and they sell 100% pure oil. Another big part of the operation are the sheep. The owner actually got a wild sheep from Angola and crossbread it with local sheep to have a stronger, more disease-resistant, sheep. The sheep lives in another section of the farm and he brings them treats twice a week, otherwise, sheep survive on their own.
Yet another section of the farm is a hunting game reserve. Regular customers, both South African and European go there to hunt every year. Some of the animals hang around his house and beg for treats. Every day before sunset, animals go near the house and wait for the evening treat.
Prickly Pear section of the farm.
The unique Angolan-South African sheep.
I went there with the intention of spending just one night. But I felt so welcomed and happy there that I decided to spend another night. The next day they took me to Kimberly to see the Big Hole.
Next to the Big Hole is a well-preserved town, like Kimberly was 100+ years ago.
They had electric cars 120 years ago in Kimberly.
My hosts in front of their gate.
Bike Logistics
South Africa is one of the few countries left that still allows tourists to buy and register vehicles in their names. Most other countries require long term stay and a "proof of residency." European, Gestapo-style controls, always in the name of "security," have spread all over the world. So much for freedoms.
There is a good selection of motorcycles in South Africa. Moreover, prices are quite reasonable. So, a few days after landing, I was a proud owner of a 20 year old Honda Transalp. It supposedly had only 22,000 km on the clock. Whether the odometer has been fiddled with or not, I don't know, but the bike ran great. It had plenty of power, handled dirt and pavement well, but didn't like deep sand or mud.
Foreigners have to get a TRN certificate in order to register vehicles in their names.
As for the paperwork, the most complicated part is getting a Transit Register Number or TRN. Actually, even that was a very straightforward process once I knocked on the right office door. I did it at DLTC (Driving License Testing Center) in Randburg because I was staying nearby. Before that, I tried a few other DLTCs and they either didn't know what I was talking about or told me they did not process TRN applications.
After submitting the application (with two black and white photos, proof of address and, in the case of Randburg office, a proof of vehicle purchase) I waited a week and my number was ready. With it, I transferred motorcycle ownership into my name the same day.
It is also strongly recommended (and possibly required for some countries) to obtain a Police Clearance Certificate which basically states that the vehicle you are taking across the borders hasn't been reported stolen.
With TRN, one can get title and registration in his name.
Food and Drinks
South Africans are basically carnivores. They love meats. Food in restaurants and supermarkets is clean and safe to eat. Even tap water is potable. For me, buying food in supermaket delies and eating it at some scenic spots worked the best.
Namibia was similar to South Africa, but things were rougher in Zambia, especially outside major cities.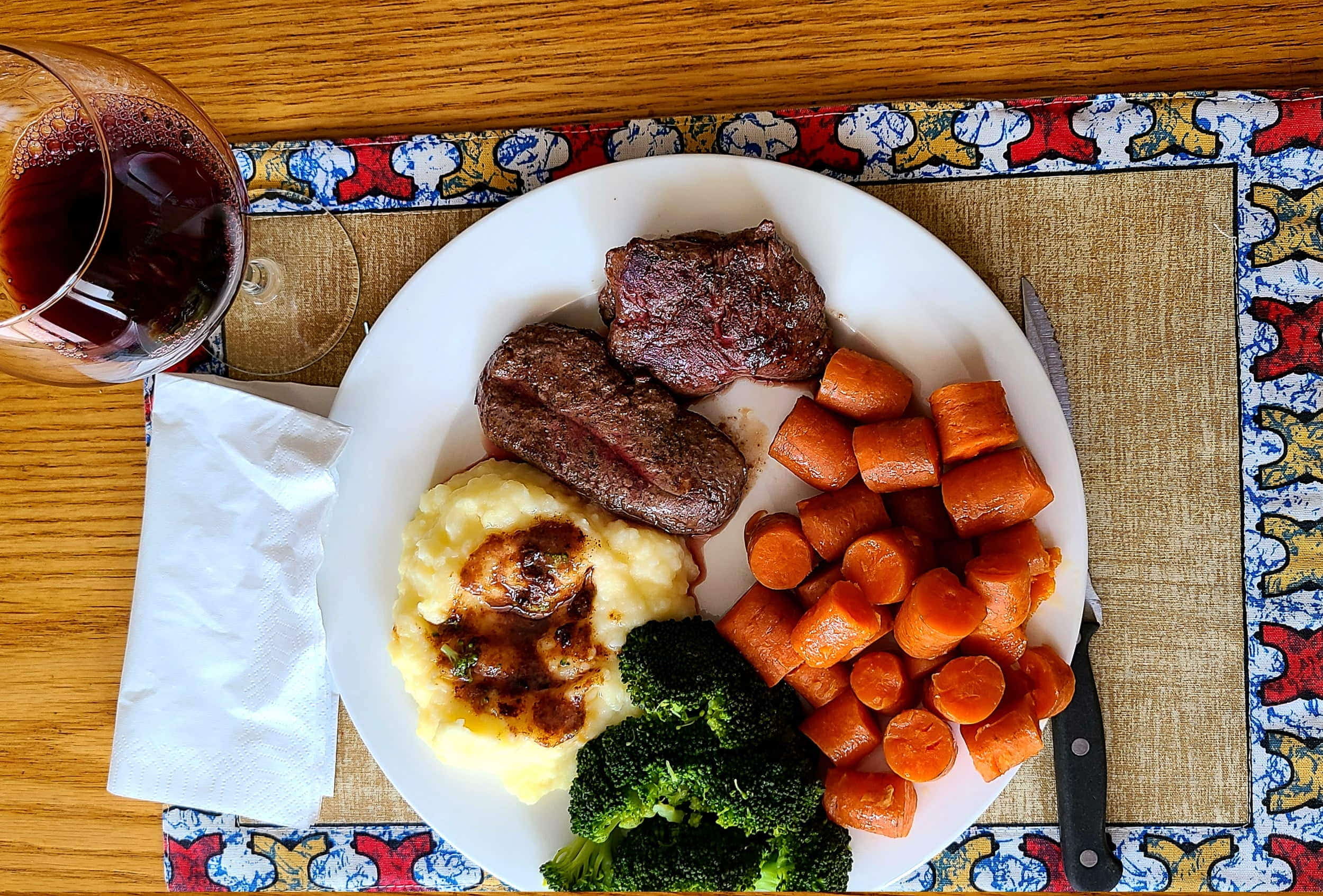 My friend in Johannesburg got me hooked on ostrich steaks - juicier, more tender version of beef.
Her other specialty were bananas fried in butter. I love Thai fried bananas (they usually deep fry them), but my friend's bananas were even tastier without being deep fried.
When I was a kid I loved smoked beef tongue. It's not easy to find beef tongue these days, but they are available in South Africa and my friend knew how to cook them.
One is spoiled with food selection at a Checkers supermarket deli.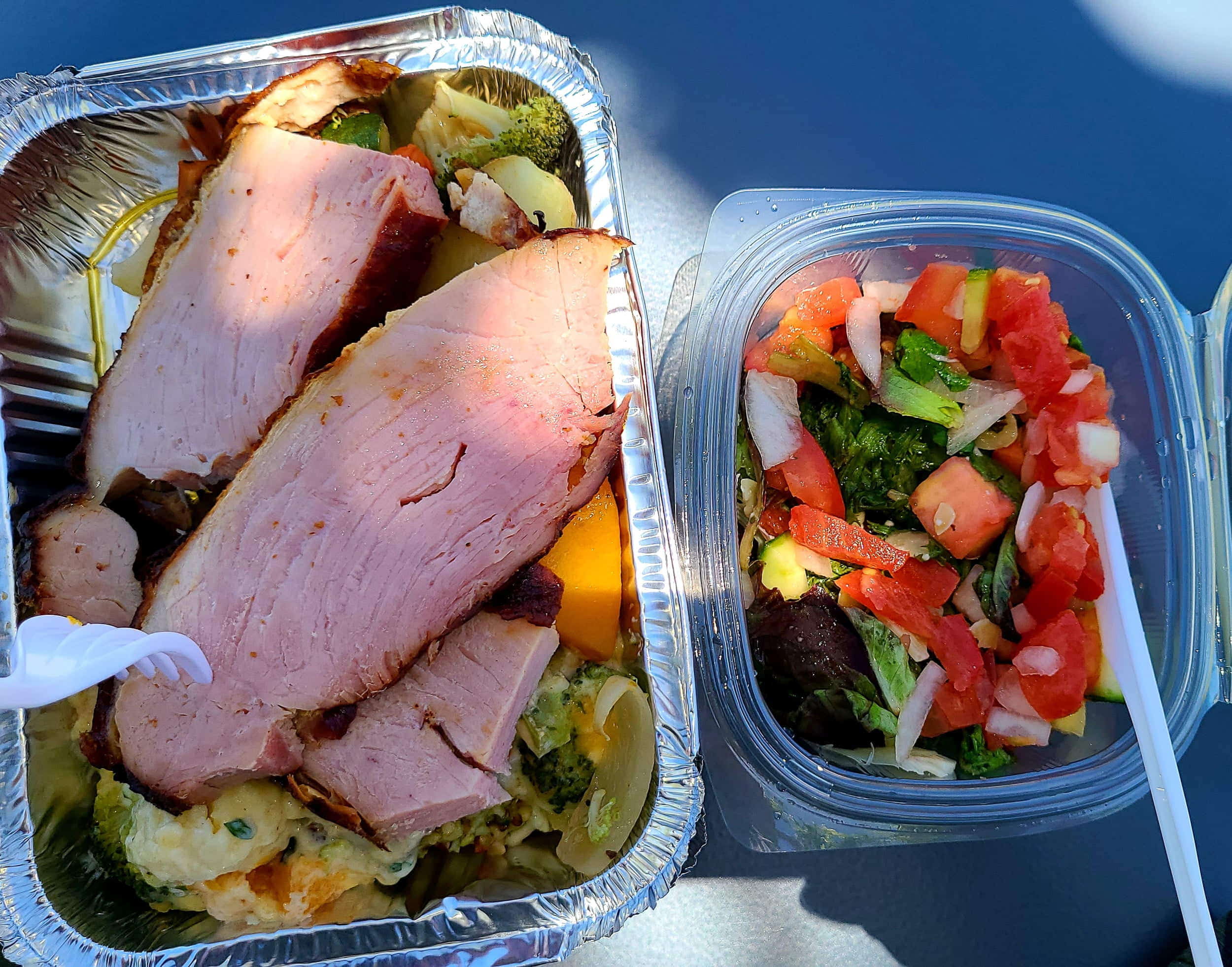 It's easy to eat well and healthy in South Africa.
Whenever I have a chance, I eat deli food at some scenic spot.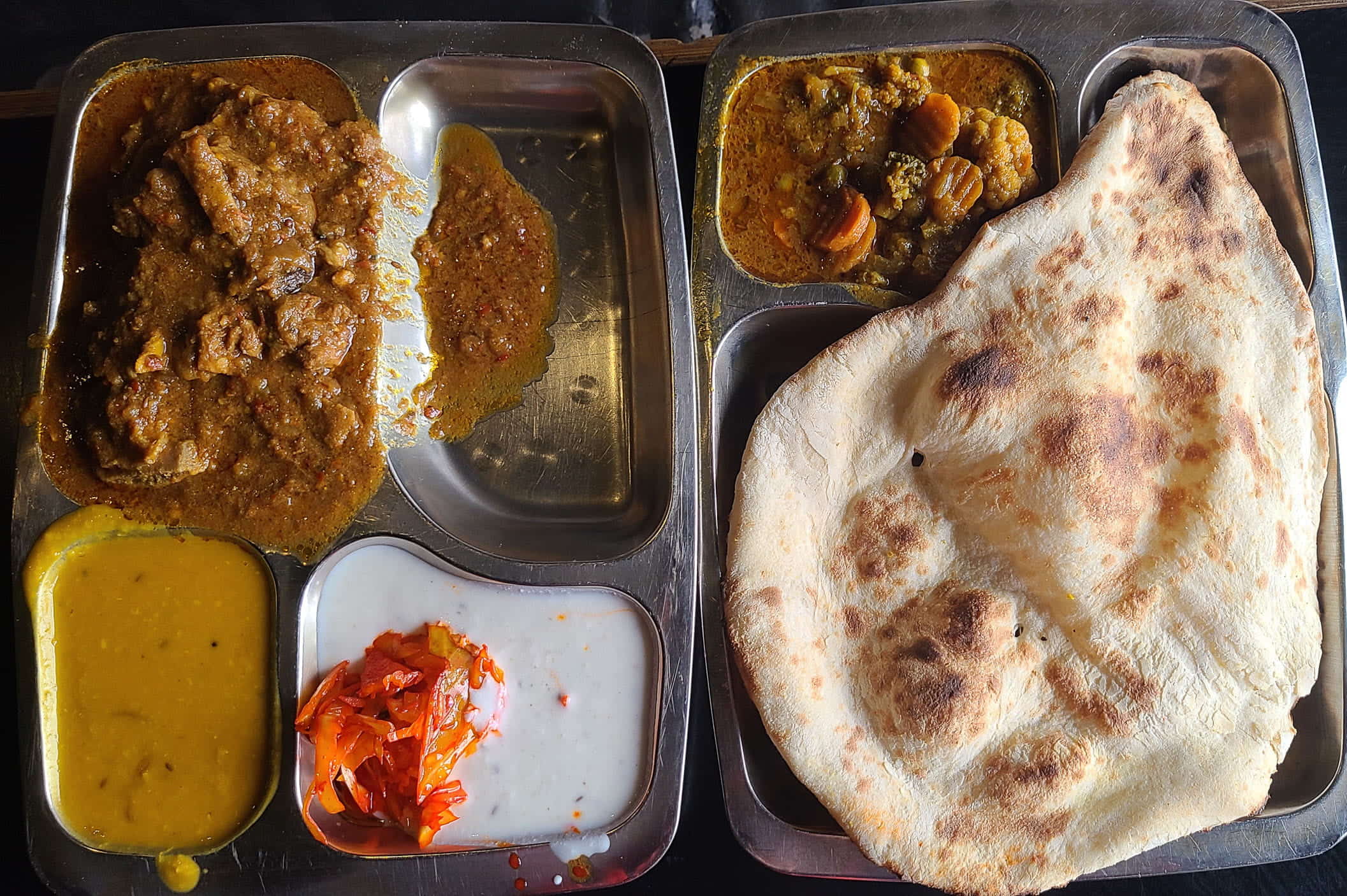 There are great Indian restaurants in South Africa. I enjoyed this mean on Long Street in Cape Town.
Whenever I have a chance, I eat deli food at some scenic spot.
Another wholesome supermarket lunch.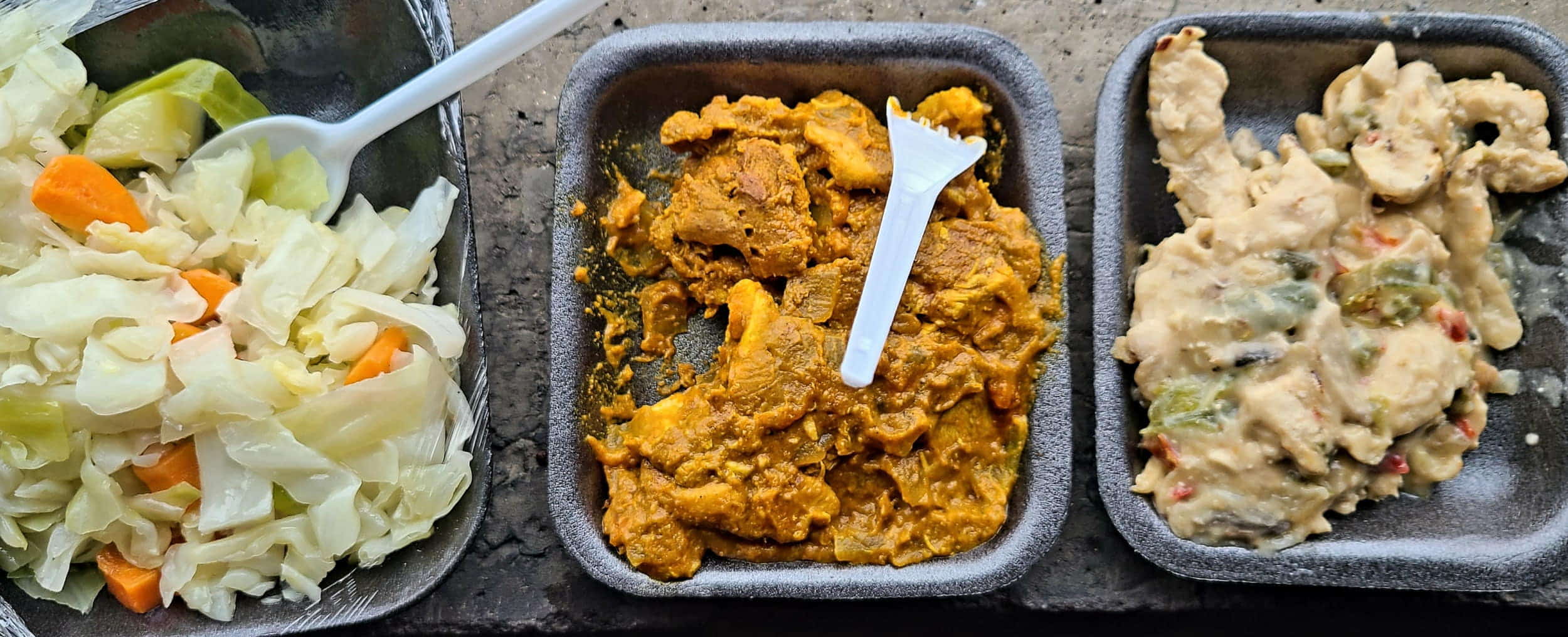 I don't remember the name of the curry on the right, but it was simply out of this world - Checkers supermarket in Windhoek.
Mango in Zambia is cheap and very tasty.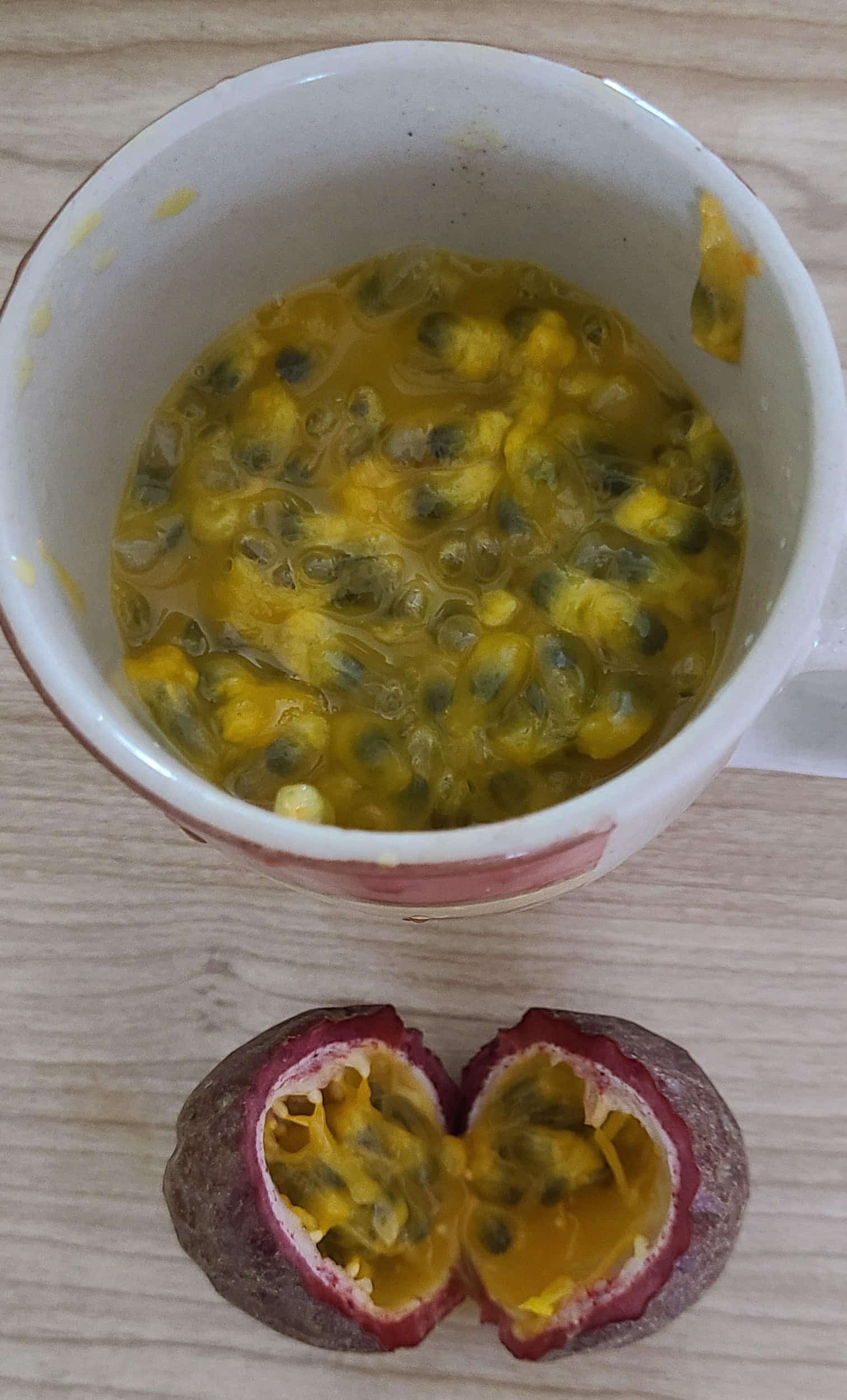 Surprisingly hard to find - passion fruit.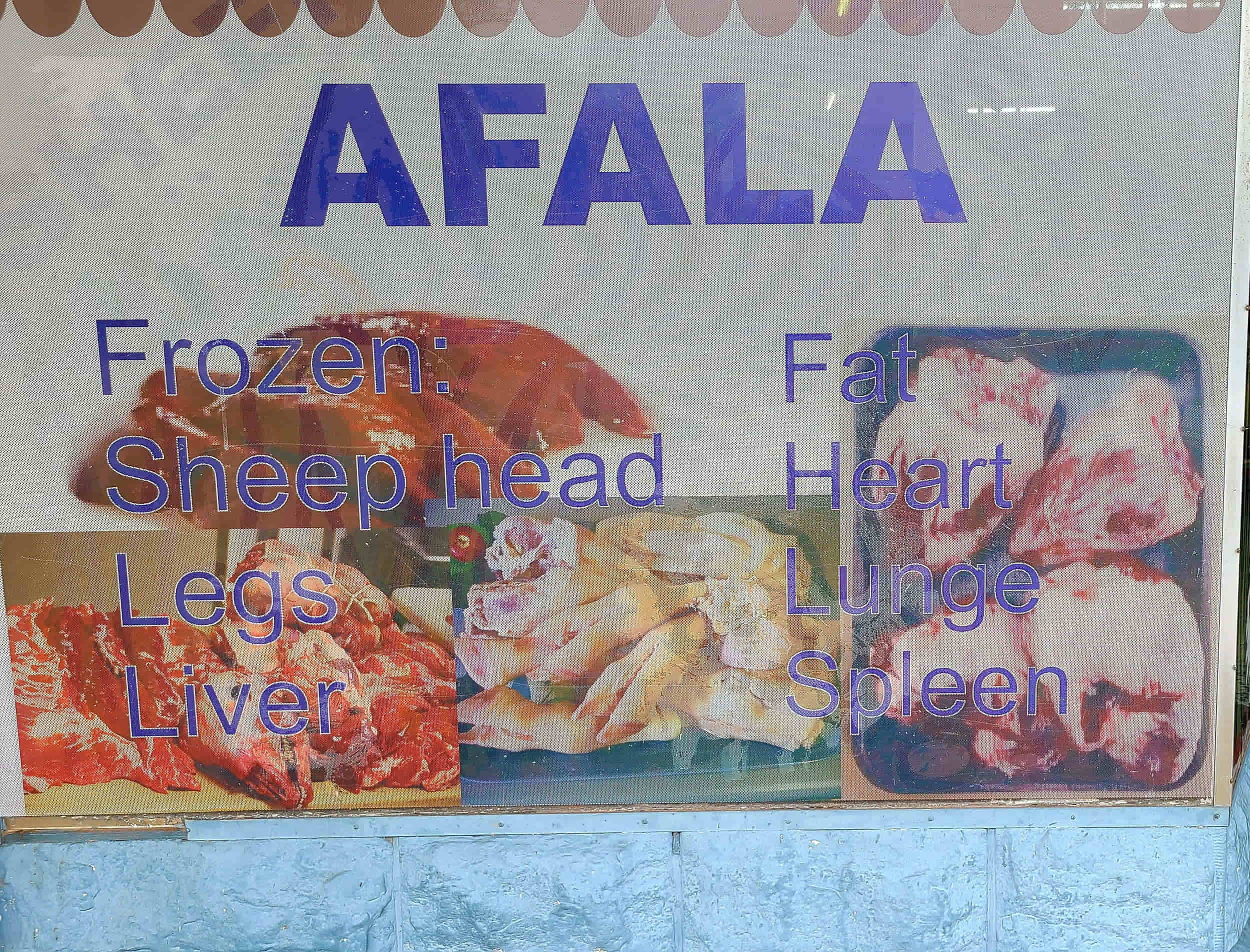 Exotic eats in Africa.
Biltong - African version of jerky meet.
South African wine, considering the price, simply the best wines I've had anywhere in the world. A bottle of $3-4 wine in South Africa is comparable to $20+ bottle of wine in the USA. I am surprised South African wines are not more well-known around the world.
Screw cap bottles are nothing to sneeze at. This $4 wine is simply amazing.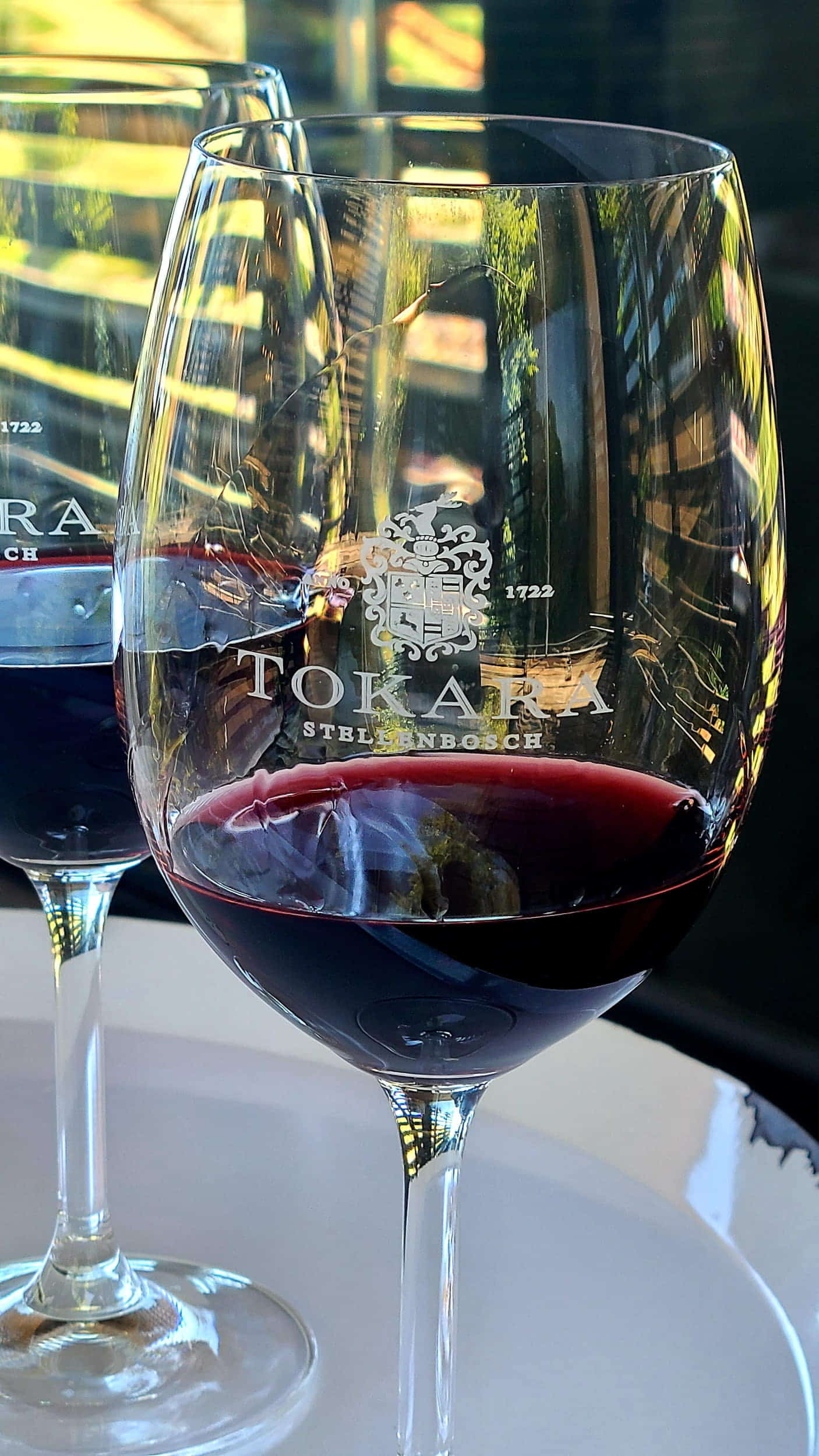 I went wine tasting in a Stellenbosch winery. It was good, but I had better wines at much lower prices.
Odd Bins - wine sold at Checkers supermarkets only. Cheap yet amazing wines.
Accommodation
South Africa has plenty of comfortable and reasonably priced accommodation options. Very comfortable rooms, clean, typically with a kitchenette, cost on average about $25. Other countries are not nearly as good deal when it comes to places to stay. Here are some of my favorite places where I stayed during this trip.
Fat mulberry farmstay - I was the only guest there and the place looked more like an art gallery than a farm.
My cabin on a lake at the foothills of Drakensberg mountains.
Wild Coast cottage with virtually no people around.
A traditional German style house in East London.
An office building floor converted into apartments for rent in downtown Cap Town. Not only was the view amazing, but it also had a secure underground parking for the bike.
Another amazing stay in Underberg. A cottage with amazing views of Drakensbert mountains and surrouding farms.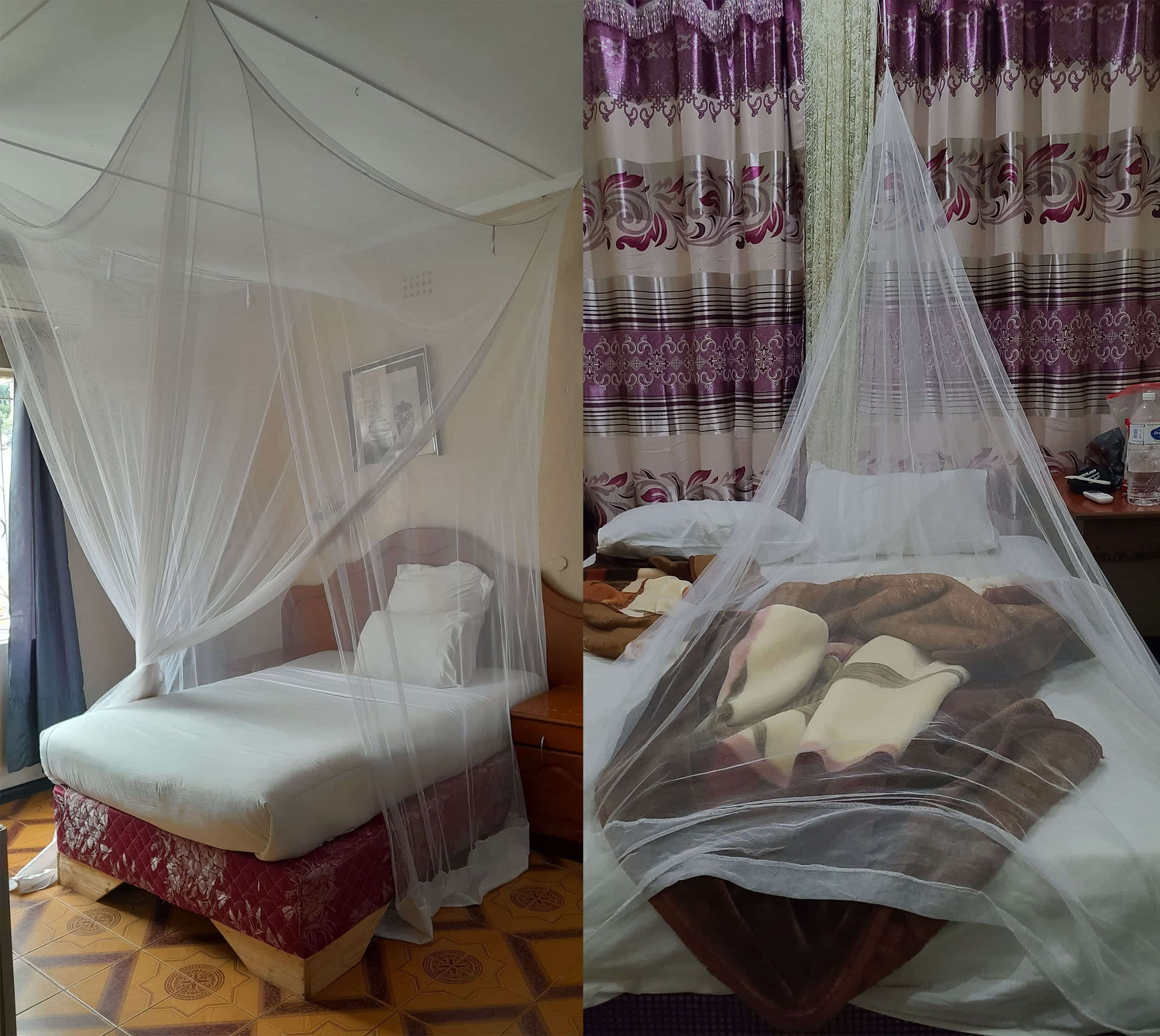 There is no malaria in South Africa. But in other countries, malaria is an issue and there are usually big mosquito nets around beds (left side). However, I carried a smaller net and had to use it on a few occasions when the room did not have one (right side).
African Scams
I entirely forgot about being scammed while traveling around Africa 20 years earlier. One classic scam is not returning change. While traveling on a bus, people try to sell all kinds of food and trinkets to passengers. Buyers would hand over money only after they got both the goods and correct change (otherwise they would never get the change). This time this happened in a barber store, a guy would not give me change back.
One thing that I will never quite understand is demanding ridiculous prices and missing the sale. On several occasions, I stopped to buy from ladies mostly because I felt sorry for them and wanted to give them some business. Once a lady quoted me price to which I agreed, then she asked for more. WTF? I just rode off without making the purchase and she continued waiting for the next car to pass by.
While riding in Zambia, I wanted to have a haircut. In a small village in the middle of nowhere, I asked in a barber shop and the lady working there couldn't tell me the price without a guy sitting in front of the store first approving the price. WTF? There are barber pimps? Of course he quoted me 3x the price I had paid for a haircut in the capital a few weeks earlier.
Then in next town, I stopped by a new, shiny, shopping mall and entered a high end barber shop. I looked at the price list and even though it was more expensive than what I had paid in the capital, I figured it was a nice, new facility and worth the premium.
In Africa, just because the price is clearly displayed, it doesn't mean anything. So I asked the guy who was eagerly waiting for a customer to walk in how much a haircut was.
He quoted me twice the price that was displayed. When I pointed out the price list to him, he showed me "dye hair" price. Explaining that I didn't want my hair dyed was pointless. So, I just walked out and he went back to waiting for the next customer to walk in and pay the regular price.
I've experienced this kind of mentality in Thailand, where taxi drivers prefer to go around and around waiting for one big sucker instead of earning normal pay. They simply kick out customers who want taxi-meter turned on. They actually don't even stop for Thais late at night, hoping to strike it rich with a foreign sucker. So all this was just a variation on the theme.
Finally a barber who will cut my hair for the that price he charges everybody.
South Africa Today
It is impossible to fully grasp complexities of modern day South Africa in just a few months that I spent there. Sad past, scary present and uncertain future is something all South Africans have to contend with. These are just some subjective observations from my two months in South Africa.
Considering the troubled past, I was curious about the interaction between blacks and whites in South Africa. I was pleasantly surprised to see everybody smiling and being courteous towards each other. It's mostly blacks doing the labor intensive work, on farms, in restaurants and on construction sites, but they seemed quite content with that. Whites, on the other hand, need help for their businesses and are quite happy to employ blacks. I could not notice any racist behavior on either side, even though it might have been too subtle for me to discern it.
Much like 20 years ago, many whites would proudly declare themselves as racists when they met me. Yet, in conversations among themselves, they showed compassion and caring for their black maids, workers and building attendants. They would argue how blacks are not paid enough, give them food and try to help them whenever possible.
Whites do disdain politicians (mainly black) and it's hard to blame them for it, considering the sad state of South Africa today. Actually, quite a few blacks feel the same way. I'd add, anyone in EU or US who doesn't feel the same way about his/her elected officials is either naive or blind.
Blacks too, are very polite, accommodating and tolerant. One very kind South African woman of Indian descent told me that blacks there are very forgiving and don't hold a grudge. On quite a few occasions, I had a decent conversation with blacks and with the exception of that barber who wouldn't give me change back (he said higher price for non-blacks), I never felt mistreated.
Just one of many disturbing exhibits in Apartheid museum in Johannesburg. It's impossible to feel indifferent after a visit.
Mandela's statue in Pretoria. For some a terrorist and for others an enlightened person. Does the fight for freedom against oppression justify violence? One thing nobody can deny him - his role in the peaceful handover of power, for which he got the Nobel prize.
While South Africa so far managed not to completely destroy its economy like Zimbabwe did (very quickly too), one cannot help but notice where things are heading. Many people, black or white, wonder what Mandela would say if he were to see how badly the country has been mismanaged.
I met and talked to a fair number of white South Africans. Many lamented about how South Africa used to be first world country. However, in my opinion, they still have a very good quality of life, mainly thanks to the cheap black labor. Given enough time, most most of them will complain about the corrupt government. But on several occasions, I had blacks too bring up the issue and tell me "our black government screwed things up." After all, what county's citizens think their politicians are good, honest and represent interests fo the people who elected them?
Most smaller towns that I rode through looked downright sad. One can see that once upon a time, they were prosperous, with many businesses, shops and restaurants operating. Now, there are mostly dilapidated or abandoned buildings taken over by beggars and drug addicts.
Last time I had seen a cow going through garbage can looking for food was in India.
Most smaller towns that I rode through looked downright sad. One can see that once upon a time, they were prosperous, with many businesses, shops and restaurants operating. Now, there are mostly dilapidated or abandoned buildings taken over by beggars and drug addicts.
Remnants of the Apartheid era - every city town or village has a satellite settlement for the blacks, township or 'location', as they often call it. Houses in these townships vary from wooden or tin shacks to multistory homes.
As soon as I stopped for a break, a parade of beggars would approach me asking for money and telling me about their hardships. I talked to the ones who could make meaningful conversation beyond extended hand. I was curious about lives of blacks in South Africa. I even ventured into black townships with some of the guys I met. In bigger cities, I would not dare, but in smaller towns and villages, I was told it was safe and I did not feel threatened. I just felt strange from all the stares I was getting for being there (whites normally do not go into townships).
Sadly, poor economy was a minor part of the problem of the blacks I spoke with. Most of them were on drugs. Some had brains so damaged by drugs that they couldn't maintain coherent conversation (not because of the language barrier).
The crime is bad, but not nearly as bad as one would expect from the news. Actually, many white South Africans feel just fine there as far as the crime goes.
Crumbling infrastructure is another problem that everyone complains about. South Africa has an extensive network of roads. I guess when blacks worked for next to nothing, roads were in top condition. But even now, I think, they are ok. Railroad network, on the other hand, has been almost entirely destroyed. It's sad to see all the railroad tracks (many electrified) abandoned and left to rot.
Most of the railroad lines are abandoned, electricity wires scavenged and tracks reclaimed by mother nature.
Currently, the biggest problem is rolling blackouts or "load shedding", as they are called in South Africa. Sections of cities are cut off from power for 2 hours at a time 2-3 times a day. Sometimes it gets worse and power is off for 4 or 6 hours. This is not only inconvenient but it is killing the economy. Shops, restaurants and malls run huge generators, while factories may have to shut down. Farmers need power to run pumps for the irrigation. With frequent power cuts, their crops will be destroyed and they may stop planting crops all together, which would not only leave scores of black laborers without jobs but also country without food.
Escom, South Africa's electric power company, has been mismanaged for a long time. Even though the demand has increased over the years, the supply is actually dwindling because of insufficient investment in maintenance of existing, and building of new power plants. This infrastructure cannot be built overnight. More likely than not, things will get a lot darker for South Africans.
Much like in Zimbabwe 30 years earlier, white farmers are being targeted and killed. Malema, a leader of the opposition party stands by his "call for the slaughter of white people… at least not for now " and is cleared by the court as "not using hate speech."
Poster by Malema's party (Economic Freedom Fighters) calling for a shutdown day.
Sadly, it's not just extremists like Malema who are trying to "fix" things by going back to racism, or "reverse racism." Much like during Apartheid era, there are laws legalizing discrimination based on skin color, just this time, against white people. BEE (Black Economic Empowerment) is a law crafted to penalize white-owned businesses. If they don't give away up to 51% of the ownership to a local corrupt politician, they will end up paying more for whatever they need to operate their businesses.
It is easy to see where this is heading. Business owners, people with money and know-how will simply pack and go to other countries, leaving economically devastated towns behind.
It should not come as a surprise that the power company, Escom, following the BEE doctrine, is in so much trouble. In addition to embezzlement and mismanagement, it has been awarding maintenance and building contracts based on owners' skin color, not on economic principles - price and quality of work.
To me, this sounds all too familiar story. I actually see it in EU and US. Whenever politicians meddle with economy, it doesn't end up well.
Nobody is a funny enough place name, but Total Nobody is even better (Total is a French petrol company).
This one is for computer nerds only. There are Ubuntu signs all over South Africa, but they mean community house (when on street signs), not the operating system. The real meaning is much deeper.